The death of 'el Duke' and deliberate acts of 'unknowing'
Today again, the pain and impotence invade the social and communitarian processes of Medellin. Again death looms over the inhabitants of Comuna 13. Again the dreams are truncated by the actions of the armed groups and the incapacity of the municipal authorities to guarantee the community security conditions, and protect the life of the youth.

….

We call for the attention of the local and national authorities regarding situations like these that continue to affect the Comuna 13, in particular its youth and including those who are leading social and cultural processes, we demand that the necessary measures are taken to clarify the acts, that they move beyond the police and militaristic strategies with which they have pretended to solve the situations of violence, and moreover, take the necessary measures for the integrated protection of the youth population.
Adriaan Alsema, in his editor's column at Colombia Reports published a letter he received from community groups in Medellin's Comuna 13 following the death of community worker and hip-hop artist Elider Varela, known as 'El Duke'.
The above is two different paragraphs from the letter, but you should go and read the entire piece.
Since reading of his death (and the way his death was discussed in various places) I can't help but think of my research and how this makes me feel.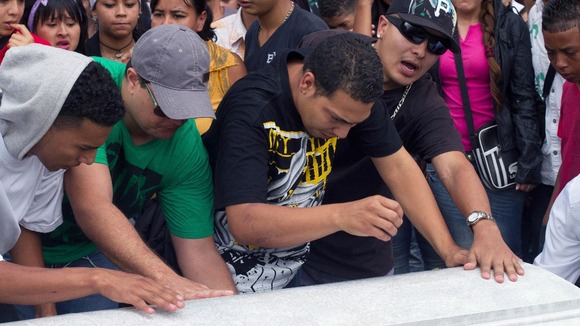 [Image: Funeral for Elider Varela, 'el Duke' [via]]
—-

We talk about youth gangs and  youth violence as if the problem originates with the young people themselves, and not the systems of oppression and exclusion which willfully ignore the lives and experiences of those living in poverty, amidst violence, and who despite all this live each day with dignity and resilience.

We talk about the death of a community leader as an individual, profoundly sorrowful event; but rarely does the sorrow of the family and community resonate upwards to join what should be a chorus of sorrow for a country in which this keeps occurring.

Carolyn Nordstrom, in speaking about places of violence in her 2004 book "Shadows of War", talks about deliberate acts of 'unknowing' where zones and people are relegated to a space which is beyond the care and attention of 'civil' society. In such a configuration, my everyday process of living can be sustained because I chose not to know, not to look, not to care. Except I do know, do look, do care, and in knowing, looking, caring, the violence becomes more absurd, more damaging, more tragic.

Reading about 'el Duke's' death I was struck by how many commenters on news articles dismissed the entire area and its population as 'delinquents', 'drug addicts', 'violent', and how they themselves un-ironically suggested the most violent actions in response: "napalm the whole area" suggested one El Tiempo reader. Of course these are merely internet commenters, but they reflect a disregard—a violent disregard—for the lives, safety, and security of their fellow citizens. It is a perfect example of Nordstrom's deliberate 'unknowing'.

I haven't been to Comuna 13 in Medellin, but I have worked in a similar place. When I read the letter, posted in Adriaan's column, all I could hear were echoes of conversations I had with young people and community leaders in a barrio just south of Bogota, where the absence of those who are meant to protect you makes your daily life a dangerous and fraught affair; where the lives of young people are circumscribed by structures which deny them opportunity then blame them for their own failings.

I had a conversation with two young men, both about 16 years old. One told me that people in Bogota think if you come to their community: "you'll be killed, if you come here they'll rob you or attack you", but noted that "if people actually came here, met us, they would see that isn't always true". His friend hit the nail on the head as he said "its the stigma, of course there are problems, but the social stigma is the massive issue". 
These willful acts of unknowing also a directly related to the pervasive and continuing violence and insecurity in areas such as Comuna 13, only the conversation never notes that. It never recognises that how you name something, how you describe it, how you exclude it, how you write it off, serves to re-inscribes violence upon these places and those within them.
Varela was the seventh hip hop/rap artist killed in Medellin since 2010. That knowledge alone cannot be read in isolation, but rather should be seen as a campaign against artists who promote peace. The fact that this is not commented on, but the danger and violence of the Comuna 13 is mentioned in every news report, examplifies the re-inscription of violence.
These areas are discussed as if the problem originates there with no other context. These young people are written off as if they are somehow innately violent or delinquent. So often these conversations rest on these deliberate acts of 'unknowing' which actively ignore the systems of exclusion and the realities and struggles of those who live each day amidst violence and stigma, and live with dignity.

This is why reading the community's letter in Adriaan's column has stuck in my head since then, and why I think it is crucial that the conversation moves from isolated incidences of violence, and pathologising attributions of individual blame, to look at the structures, the society, the collective consciousness that continues to deliberately unknow, to chose not to look, not to care.
The voices of those most affected are least heard, and it damages everybody.
1 Notes/ Hide
jennfrank likes this
cuentosdecolombia posted this